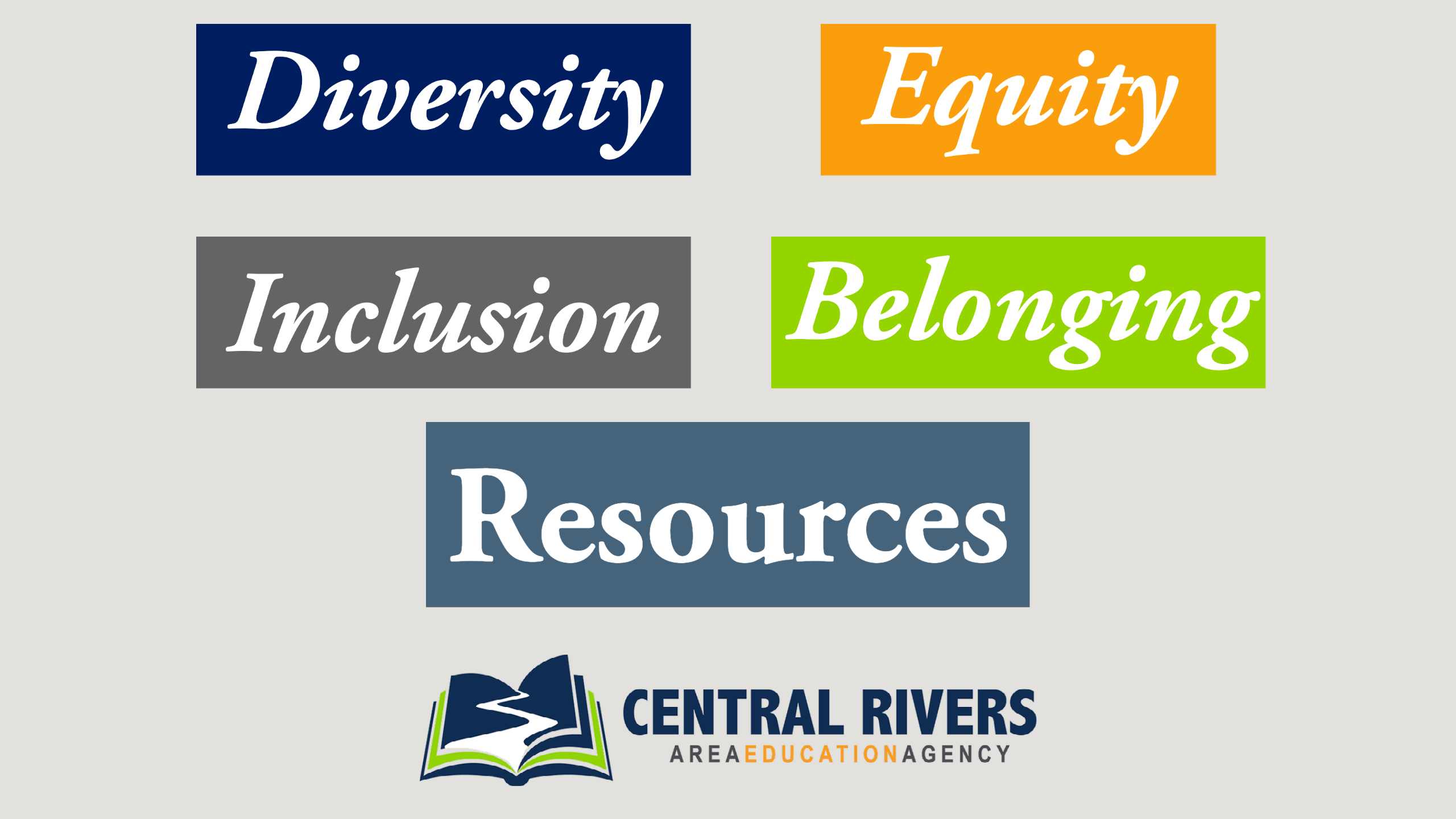 ---
DEI Action Plan
Want to see a sneak peek at upcoming DEI strategies? Check out the DEI Action Plan document. Please note: this is a working document.
---
Disrupting Bias Learning Sessions
Registration for the full-day Disrupting Bias learning session, offered by Gina Weekley, is now open and will be offered at each Central Rivers AEA office location. Register online through the AEA Professional Learning system.
Course Description: Join us for a full-day learning session that will provide a framework to disrupt bias behaviors. Bias limits our ability to make the best decisions for our teachers, our students, and our families. The awareness of our biases is foundational to becoming more diverse, equitable, and inclusive. Unconscious bias is something everyone has and that doesn't make us bad; it makes us human. Through this session, you will be able to recognize bias, disrupt bias, learn how to choose courage and increase your connections! *This training is for Central Rivers AEA Staff only, and each session is limited to 50 attendees max.!
*More session dates and information are coming soon.
---
Unbiased Checklists
Education is step one. Changing behavior and unbiasing decisions is a very difficult step two. Google has created checklists, resources and tools that are free for customization. More Central Rivers AEA-customized checklists are coming soon. The hiring checklist can be found below.
---
DEI Language Guide
As a result of what was released from the Equity Audit, the "APA Equity, Diversity and Inclusion: Inclusive Language Guide" is an optional tool available to staff to enhance learning and awareness of DEI terms and concepts.
---
Equity Audit
As an outgrowth of the important work done by the Equity Committee in partnership with the Leadership Academy, we collected staff feedback through a series of focus groups, as well as gathered the perspectives and input of all stakeholders through anonymous surveys. For more information, view the March 2022 Central Rivers AEA Equity Audit Findings.
In partnership with the Leadership Academy, the Equity Committee discovered current working themes from the audit work that include:
Leadership Communication about Equity: Central Rivers AEA leadership has an opportunity to make values and actions more visible that support the organizational priority of equity. Two-way communication (e.g. we all have our roles in working toward equity) must be strengthened. We all have to support and engage in the work together to solve problems.
Courage and Candor when addressing Equity issues/topics: How might we continue to grow our culture and climate to include more understanding, transparency (marketing & hiring processes), learning and building skills sets in culturally responsiveness and build upon the ability to lean into conversations to deepen people's comfort level to increase our authenticity in being an equitable and brave workspace and carry these mindsets into the systems we serve? (How do we make these terms explicit?)
Professional Learning around Equity: We have a current structure for meetings and learning that often creates barriers to deeper learning and progress. There are no structured intentional spaces for discourse that support this learning and the discomfort that comes with growth. We are lacking clear public articulation of why equity, diversity and inclusion matter to our agency from our leadership. Our focus within the three big rocks does not include much intentional room for diversity, equity and inclusion.
Staff Diversity: We need a system that fosters and develops the recruitment, retention and support of marginalized groups. We need to ensure that all staff (administrators, Certified, NUSS and Classified) explore their biases and implement a system to address biases, language used and microaggressions at all levels. We need to be intentional in our interview process to ask questions that address DEI – questions that ask about beliefs, experiences and practices.
---
Equity Committee
---